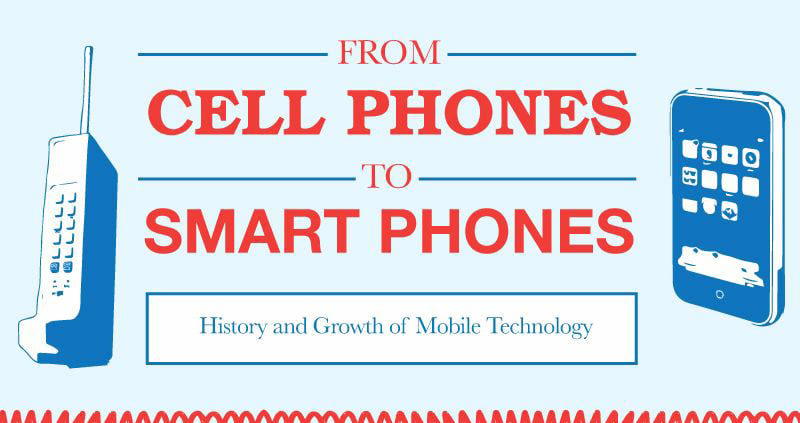 Since the first cell phone call was made in 1973, consumers have been clamoring for more and more technology that allows them to stay connected while on-the-go and from anywhere in the world. Whether for business use, personal use or just to have their hands on the latest and greatest new "toy," consumers and professionals alike will predictably line up for the next release of their favorite mobile device.
In the infographic below, we give a timeline of mobile telephone technology. You'll learn about phone inventions and usage, as well as some expectations about the future growth of mobile technology globally and how usage has impacted our habits and behavior.

Click the infographic to enlarge
From Cell Phones to Smart Phones: History and Growth of Mobile Technology
1973: First cell phone call made in New York City on April 3 by Martin Cooper of Motorola. Phone weighed 2.5 pounds with a battery life of 20 minutes.
1983: First cell phone is sold to the public — Motorola DynaTac, at a price of $3,995
1989: Motorola adds portability with Microtac, the first "flip" phone, sold for $3,000
1993: BellSouth launches IBM Simon, the first "smartphone" personal communicator, with a basic touchscreen
1998: Nokia adds game capability and color personalization — talk time increases to three hours
2004: Motorola Razr introduces ultra-thin unit with talk time of seven hours
2007: Apple unveils the first iPhone, revolutionizing smartphone technology; Sold 1.12 million units in the first quarter of sales
2015 Trends: Wearables, Watches and smart-er phones (see links for photos)
Growth of Mobile Communications
As of January 2014, 55% of American adults used a smartphone.
Smartphone users will top 222 million by 2017.
Mobile technology has been the fastest spread spreading communication technology:
Landline telephones: took 45 years to go from 5% to 50% in U.S. households.
Mobile phones: took 7 years to go from 5% to 50% use by U.S. adults.
Smart phones: took 4 years to go from 5% to 40% use by U.S. adults.
By the end of 2014, the number of mobile-connected devices was expected to exceed the world's population.
Life Changing Effects of the Smartphone
80% of smartphone users reach for their phones before doing anything else in the morning.

Internet and smartphones contribute to the "24-hour news cycle, giving instant access to real-time events.

iPhone has created a mini-economy through app development.
The Future and Mobile Telephone Technology
Having the latest mobile technology is not just a fad or a status symbol. Staying connected through mobile technology has become essential for businesses competing for valuable consumer attention and dollars. Whether considering a BYOD policy, choosing technology vendors or improving office communications with VoIP technology, using the right communications systems is an important operations issue for any business.
To help your organization understand your options and the benefits of new technology, you can learn more about the "Future of Communications" in our free e-book below.