While VoIP technology is not in itself a new technology (commercial internet phones debuted in 1995), it was long seen as a solution for large enterprises. But today, smaller businesses are noticing the benefits they can realize with VoIP over a legacy phone system, including cost and reliability.
Choosing a phone system that will meet your needs can be an important part of your overall business strategy. Even if you already have a phone system in use, you could save a lot of money and add functionality by switching from a legacy system to a VoIP system.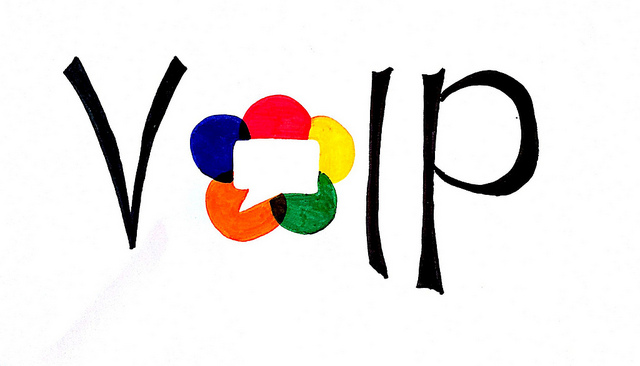 The benefits of a VoIP system have grown in recent years as the technology has progressed, and now this type of system is better in just about every way, when compared to a traditional phone system. In this post, we make comparisons between the two types of systems, including benefits and limitations.
Benefits of VoIP Technology
Let's start with some of the main benefits of VoIP technology. These benefits include:
Cost
Keeping your costs low is very important to any small business, which is why a VoIP setup can be exactly what you need in order to start paying less on your phone bill. VoIP systems are future-proofed, with automatic updates and upgrades that save you from costly changes in hardware and wiring when you hire or expand.
With VoIP, your upfront and ongoing investment is lower. In addition, with new competition always entering the market, VoIP costs will likely remain steady for the foreseeable future.
Reliability
As legacy systems age, small business owners encounter "end-of-life" issues with hardware and systems designed for analog and TDM trunking. A study by VoIP market research and reviews firm Software Advice shows that reliability of communications is the top reason that smaller organizations are choosing VoIP solutions today. This indicates that small businesses are looking for efficiencies and savings from advanced communications.
The image below shows a breakdown of the top reasons for the switch.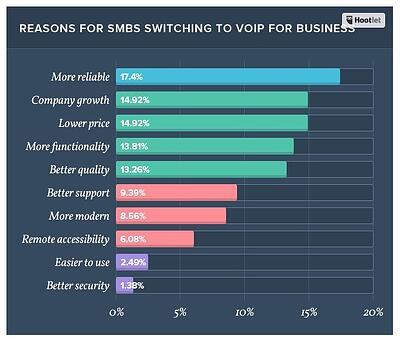 Source: Software Advice
Features
Virtually any benefit that a traditional phone system can offer you in the way of features can be matched, and surpassed, by a VoIP system. Here are some VoIP features that add convenience to business communications:
Caller ID
Call forwarding
Digital voicemail forwarding
One-touch conference calling
Music on hold
Find me/follow me call routing
Auto attendant
While some of these features may be available through a traditional phone system, they may be less advanced and can come with added cost.
Call Quality
For years, the one thing holding VoIP systems back was the perceived lack of call quality. Early broadband modems had nowhere near the capacity that a standard DSL or cable line has today. It is true that call quality was not as good as a legacy phone line perhaps 10 years ago, but that has completely changed.
Now, VoIP call quality is excellent and it does not suffer from the problems that can plague legacy phone systems, such as line trouble, loose cords or degrading infrastructure. Everything you hear is of digital quality, leading to a very low rate of dropped calls and perfect clarity.
Service Considerations
With a high-quality initial set-up, the service issues with a VoIP system can be expected to be very low. Most system maintenance, upgrades or repairs, in fact, can be made remotely by your provider without a service call.
Over time, there will likely be fewer technicians available who can work on an older telephone system. The problem will become even more evident in a few years as providers focus their attention solely on VoIP systems. This may raise the price of repairs even more for older phone systems as available parts become harder to find as these systems are phased out.
Limitations of the Legacy Phone System
As far as legacy phone systems go, it's becoming clearer that this technology has seen its day. New communication technologies and consumer demands are re-shaping the telecom market for both individual and business needs. For comparison, here are some of the limitations of this type of system, mostly centered on cost:
Costly wiring
Costly upgrades
Costly expansion
Costly maintenance
Less reliable connections
Older, obsolete parts and fewer technicians who will work with this system
Making the Switch
Installing a VoIP system in your business, or switching from a legacy phone system, can end up saving you money in both the long and short term. As time goes on, a legacy system will be harder to service, and the number of features will continue to shrink compared to VoIP systems. Having a VoIP system installed now will save you time in the future, and give your business the aforementioned benefits immediately.
Our helpful whitepaper below, "The Future of Communications," expands on some of the benefits small businesses will experience with the adoption of VoIp and other new technologies.
Image credit: voip