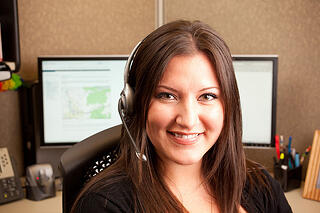 Starting a business is difficult, but not as difficult as the work required to keep it running successfully. Once the business has passed the first euphoric stage of opening, then it has to grow. Some people would say that the only way to be successful in a business is to sell the best product or offer the best solution to customers' problems.
But in today's economy, offering the best product is just not enough. In many cases, customers will choose the best customer experience and quality customer service over the best product.
It does not matter whether the product has many competitors, or the product is new to the market place — customer service is king. In the marketplace today, it can be easier to give excellent customer service because of the availability of technology tools. How can a business use technology to support its customers? Here are seven ways to use technology to give your customers an outstanding experience from your business or brand.
1) Customer Relationship Management (CRM) Software
The use of CRM software is a great way to build on an existing customer base. This type of system will help you to manage and organize all the interactions you have with leads and customers. Ultimately, keeping all information on your prospects in one database can lead to a better and seamless experience for customers. It can also lead to increased sales for your business.
Use the software to track purchase trends, calls and content downloads. Knowing your customers better will allow you to have more meaningful conversations, make relevant suggestions and meet customer needs at the right time.
2) E-mail Marketing
Sending targeted e-mails to your current customers can notify them when you have offers that will appeal to them or new products that they can use. You can also send those customers special promotions designed just for them. E-mail remains one of the most effective tools in terms of return-on-investment (ROI).
Research shows that 66% of consumers have made a purchase online as a result of an e-mail marketing message. A study by eConsultancy shows that businesses identify e-mail as the best channel in terms of ROI, as shown in the chart below.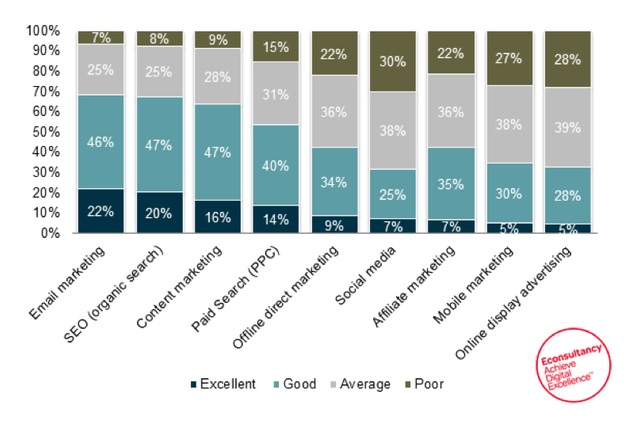 Source: ROI
3) Social Media
There are so many ways to use social media to promote your business. Sharing content, posting updates and displaying photos gives customers an up-close look at your solutions and even the items they are considering for purchase. Social media also gives you a chance to get feedback from your customers in real-time, so that you can improve on the product and make it even better.
4) VOIP Phone System
A modern VoIP phone system can add efficiency to your business and also give a better phone experience to those calling for information. Features can include auto attendants, music on-hold, dial-by-name directory, and conference calling to name just a few.
Some of your customers do not check their e-mails on a regular basis, nor are they on any of the social media sites. Using a recorded message system that can be a feature of a VoIP system, you can notify them of product updates and any specials. Sending out a recorded message also saves you time, because you can send targeted message to different customer segments.
5) Website Personalization
Smart website content gives you the ability to use data from all of your customers. Personalization gives you a chance to give your customers the right information about products that are available, and you can design a message that is specific for the specific groups interested in your product or service.
6) Survey
What is the easiest way to find out if your product or service is either meeting expectations or not as good as you may have thought? Surveys give you a chance to find the positives and negatives of your product or service and fix the weaknesses, while building on your strengths. Allowing customers to feel that they are contributing ideas that will improve your product makes them feel more connected to your brand as well.
7) Live Chat
Using a forum on your website is a great way for you to communicate with your customers, but it also allows your customers a way to share ideas of how they use your product. A live chat option offers the chance to answer customers' questions right away, at the time they are doing research on your site. This can improve their experience with your site and potentially increase their likelihood of a purchase.
Customer Experience is Key
Keeping existing customers is easier and less expensive and finding new ones. One way that you can hold on to your customers and set your business apart from your competition is to give them the highest quality customer service that you possibly can give. It can be difficult, but with all the different types of technology available, you can offer top-notch customer service that keeps customers happy, creates promoters and encourages them to come back for more from you.
You can read even more about VoIP systems for your business in the helpful e-book, "Improve Communications with PBX and VoIP," below.
Image credit: service