What do small businesses want from their hosted service providers?
Is it a responsive source of service for essential business processes, that perhaps cannot be managed in-house? Do they want affordable services that accommodate the budgetary constraints that small businesses face? Or, perhaps they're looking for the biggest, baddest, most future-proof option available that will streamline business and effect transformational progress for business practices going forward?
Sure. All of the above.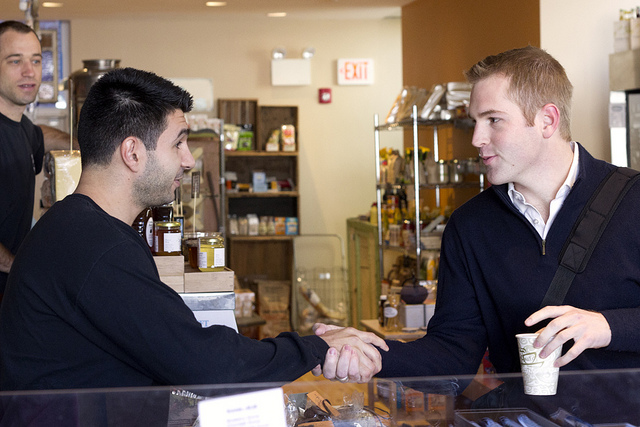 Customer Service Tips That Equal Business
But beyond being the cheapest, best and most responsive at what you do, how do you, as a Managed Service Provider, differentiate yourself from your competition in a market that may be completely saturated with competitors? Moreover, how does the value you offer, beyond the services you provide, not only set you apart from your competitors, but translate to MORE business? The answer isn't as complicated as you might think.
The customer service tips explained below will help your business to stand out as a partner, a teammate and an advocate for your customers.
1) Reassure Customers of Quick Problem Resolution.
Many consumers want to know that they can reach a solution to a problem quickly. The cost of having your network or phone system crash when you are a small operation (and even when you are a big one) is always more than businesses want or plan to spend.
To make customers feel assured that "help is coming" is a big part of keeping them calm in what is likely a troubling time for them. Most businesses have a queue, ticketing/tracking system, or a recorded message that plays while one is on hold, assuring the caller that "your call is important to us."
While these measures may create order for the customer service/help desk representatives and help them manage their workflow, they could actually make a bad situation worse. How many times have you said aloud, "I just want to speak to a live person," only to hear a recorded voice interrupt a looping song to say "someone will assist you shortly"?
2) Avoid the Cliches.
Customer service clearly has a bad reputation. From restaurants to retail and everything in between, customers almost expect bad service. "Wow" them with unexpected excellence and you'll not only make their day, you may gain a customer for life.
By avoiding some of the most loathed, but expected, customer service fails, you can improve the experience for your customers.
Consider these examples of "The most cringe-worthy phrases customers don't want to hear:"

"We're unable to answer your question. Please call xxx-xxx-xxxx to speak to a representative from xxx team."
"We're sorry, but we're experiencing unusually heavy call volumes. You can hold or try back at another time."
"Your call is important to us. Please continue to hold."
Source: American Express Survey, 2011
3) Sometimes the Best Customer Service Just Takes Longer.
Sometimes the best customer service happens when no problems exist that need fixing. The best experience I have ever had from a provider of a professional service happened just the other day – and it had nothing to do with the service for which I paid. This service provider was among the first persons to call me at a time when I was dealing with a family crisis. He had taken the time to get to know me as more than a customer. When I suddenly was faced with adversity, he called to listen, share and even offered to help.
"Always do more than is required of you."- George S. Patton
4) Provide a personalized, human touch.
Of all the effective customer service tips, this one can come in the most forms. This is your chance to be creative, to be human, to be real. Here are just a few examples of adding that "human touch" in customer service:
Taking the time to know the person behind the payment for services rendered.
Extending yourself as a provider of a service to be more than a voice on the other end of a phone.
Letting the customers or small businesses that you serve know that YOU, and not just the resolution of your trouble ticket, are important to them
These are the actions that set apart the good from the great providers of customer service.

Can Customer Service Add to the Bottom Line?
Great customer service is a good business practice in theory. But what does this mean to your bottom line? Okay, I know. We all need to keep the revenue flowing in. How does putting in the extra effort with your customers translate to more business for you?
Consider this statistic:
On average, loyal customers are worth up to 10 times as much as their first purchase.
And, here's more evidence that customers make buying decisions based on customer service:

Great Service is Good Business
Bad service leads to business lost. GREAT service is not only business retained, but can lead to a greater investment on the part of the customer over time. Not to mention, the better you are to your customers, the louder they sing your praises to potential customers… In the era of social media and its ability to send praise (and criticisms) far and fast, can you really afford to keep your customer on hold?
Download our free e-book below for more tips and insight into how to streamline business processes for customers you serve.
Image credit: service