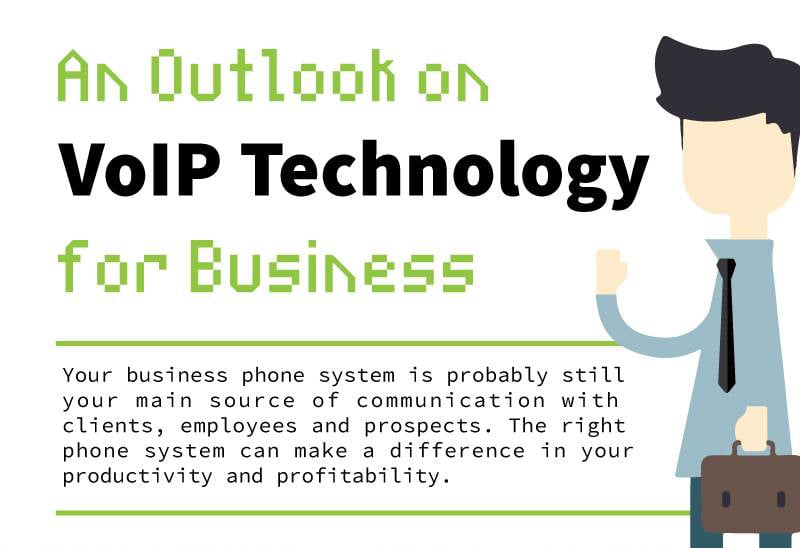 Businesses of all sizes are looking for ways to improve productivity, reduce waste and lower costs. These lean concepts lead to streamlined operations and growth potential. Your business communication system is an important decision and an asset that allows you to carry out daily business, gain new customers and keep in touch with your team.
We've put together the infographic below to help business owners and leaders as they look to adopt new communication technology. This information will help you to consider the outlook on VoIP technology versus landline or legacy systems as you evaluate your business phone needs.

Click the infographic to view the full size in a new tab.
An Outlook on VoIP Technology for Business
Your business phone system is probably still your main source of communication with clients, employees and prospects. The right phone system can make a difference in your productivity and profitability.
Understand Your Business Phone Needs
Installing a new phone system?

Replacing an existing system?

Expanding your existing system?
System Comparison: VoIP vs. Landline
VoIP
Landline
How it Works

Phone service provided through an internet connection

System uses phone company's traditional copper wiring and hardware

Features

Feature-rich option offering capabilities like auto-attendant, call routing, call history tracking, video conferencing, many more

Limited to standard features like voicemail, call forwarding, conference calling; adding features can be costly

Call Quality

Similar high-quality call connections and sound

Equipment

Low maintenance, no hardware

Physical hardware that must be regularly maintained

Cost

Lower cost, predictable expense

High costs as lines are added
H

ow Business is Using VoIP

U.S. leads the way in VoIP subscribers

VoIP technology reached 5.0 million users in North America by year-end 2013, a 30.5% increase in just one year.

Who is Using VoIP technology?

Small businesses make up the largest segment for hosted VoIP solutions. (2013)

SMBs are leading the trend toward VoIP

Primary reasons for the switch are 1) reliability 2) scalability

17% of surveyed SMBs reported problems with their current systems, including dropped calls and connectivity trouble

15% of surveyed SMBs cited planned growth as a reason to research VoIP

Enterprise Businesses are Catching Up

In the first half of 2013, enterprise investment in hosted PBX and unified communications investment showed the highest level of growth in phone services (Infonetics)

Top reasons for Enterprise adoption:
Cost

Growth, scalability

Reduce management headaches

New phone features

Connect mobile users
Are businesses less likely to "cut the cord" than homeowners? Yes!
40% of U.S. homes have wireless-only phones (they have dropped landline service)
Only 15% of business phones are using VoIP
By 2020, 18.2% of all U.S. businesses are expected to adopt VoIP technology
What's the Ultimate Benefit for Users?
Users will shape the market!
With so much market available to capture, providers will be looking to create the BEST USER EXPERIENCE possible to stay competitive. The top companies will deliver what customers want:
Top criteria as of 2014
Security: 86%
Reliability: 85%
Price: 81%
Vendor Reputation: 77%
Scalability: 75%
Making the Case for VoIP: Common Objections…and Answers
Objection: "Our landline equipment works just fine."
The Case for VoIP: Future competition and a growing mobile and remote workforce will change needs for many businesses.
Objection: "I don't trust cloud technology."
The Case for VoIP: Several factors will allow businesses to be confident about adopting VoIP systems, including: 1) Continued cloud security improvements 2) increased consumer acceptance 3) the need for business / data agility to stay competitive
Objection: "I wouldn't know where to start my VoIP research."
The Case for VoIP: As the VoIP market expands, the strongest providers will emerge. Providers will come to identify and perfect the features and services that consumers want most and make it easier to choose the best option.
How does the Outlook on VoIP Affect Your Business?
What opportunities await your business when you update your current communications system? Growth? Efficiency? Cost Savings? VoIP technology offers all these benefits and more. Learn more facts about the benefits of VoIP technology for your business in our related blog here and in our helpful e-book shown below.