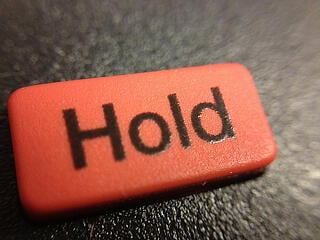 So, you've called in to a customer service line looking for help regarding a product or service you've purchased. Your hope is that your questions will be answered and your issues resolved quickly, and by a person who is capable and amiable.
Suddenly, your optimism regarding the call takes a nose dive as your Customer Service Representative says flatly, "I'll have to put you on hold while I look into this for you." Or, worse yet, "Let me transfer you to the right department. You've reached the [insert the name of a department that has nothing to do with your needs] department."
Where Patience Goes to Die
It's a place most of us have been before: Knowing that you have no option if you wish to get the help you need, you reply, "Sure, I'll hold," and politely wait. If you have never been through what comes next before, you are lucky. If I am being completely honest, I am slightly envious.
For those of you who are familiar with the veritable purgatory that is being "on hold," I don't have to tell you that you have just been thrust into a parallel universe where time slows down, and both your patience and sanity cannot survive.
You will most likely run into the typical Stalingrad-esque repeating messages that state how important your call is to the business. It is only slightly less annoying to have some form of default music that plays on a loop, and gives you the virtual experience of being stuck in an elevator, listening to muzak ad infinitum.
However, not all businesses who field customer service calls are entirely unsympathetic to your plight. Some choose to make your wait as pleasant as possible by poking fun at the situation.
10 Best On Hold Waiting Songs
The following list is my own personal "Top 10" list of songs which will not shorten your hold time, but may add a little levity to it:
#10: "Don't Let Go" – Isaac Hayes
If you find yourself fighting the urge to dust off your platform shoes and dim the lights for optimal disco ball conditions, there is a good chance that you are waiting for service with the late Isaac Hayes.
#9: "Wait For Me" – Kings Of Leon
I'm as surprised as you that Kings Of Leon have songs other than "Use Somebody."
Source: sonymusichits
#8: "You Really Got a Hold On Me" - Smokey Robinson & the Miracles
No list of top 10 "on hold" songs would be complete without an appearance by one of Motown's finest groups. You may find that moment when you are taken off hold to be a "miracle" of sorts, depending on how long you are kept waiting.
#7: "I'll Wait" – Van Halen
Of course you'll wait. You don't have a choice. While you are waiting, take the opportunity to wrap your phone in strips of masking tape to give it the look of Eddie Van Halen's famous "Frankenstrat" guitar.
#6: "Hold On Loosely" – 38 Special
Holding too tightly can lead to a loss of control, apparently. I assume Don Barnes was referring to being kept waiting on the phone. Mind your grip on that receiver, gang.
Source: 38SpecialVEVO
#5: "Baby Hold On" – Eddie Money
I'm not sure that being called "baby" is something that I'm comfortable with, on a phone call with a stranger or otherwise. Nevertheless, it's in the top 5.
Source: ScreamDream3000
#4: "Hold On, I'm Coming" - Sam & Dave
This is perhaps the most encouraging song in the list. Hold on, your Customer Service Representative is coming. Probably.
#3: "The Waiting" – Tom Petty & The Heartbreakers
Oh, the waiting is the hardest part? Thanks Tom, we didn't know that. Tell me, is water wet?
Source: TomPettyHrtbrkrsVEVO
#2: "Hold On" - Wilson Phillips
Someday somebody's gonna put you on hold and make you cry… Cheer up, you'll only have to hold on for one more day.
#1: "Hold The Line" – Toto
Drumroll, please! Like love, the help you called in for isn't always on time. At least you've got Bobby Kimball to keep you company while you wait.
Source: TotoVEVO
And there you have them: the 10 best toe-tappin', patience-testing ways to pass the time while waiting on the phone for customer service. Remember, "your call will be answered in the order in which it was received." So, relax and enjoy. On a more serious note, when it's finally your turn, I truly hope your problem is resolved to your satisfaction. To see what top-notch customer service is actually all about, check out our related blog post here.
Image credit: hold