If there is one industry that requires flexibility in its processes, it is manufacturing. Now more than ever, the whole industry is going through changes that reflect the rapid advances in technology affecting every industry. Technology advances impact everything from new inventions coming to market, the level of competition you face, new regulatory issues and shorter product life cycle.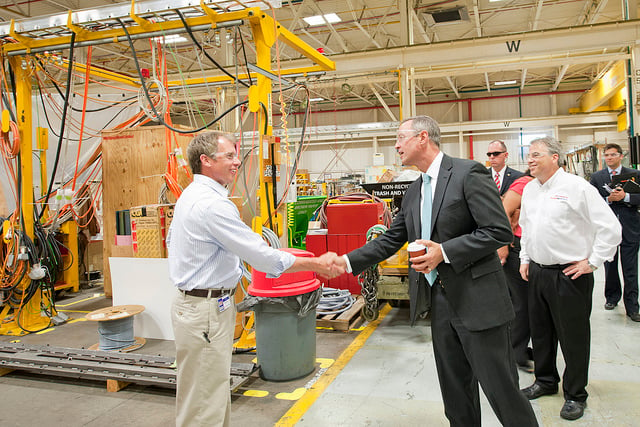 As a manufacturing company, embracing technology solutions may take you outside of your traditional "box." But without question, these opportunities can offer the chance for change, new growth and a share in new markets. A company must be able to evolve with the times, to keep up with this fast pace and to stay competitive.
Embracing Technology Solutions
Staying current with technology is a given in manufacturing-based companies. Some developing technologies, however, including manufacturing automation and IT and data management, are moving forward by leaps and bounds, requiring traditional manufacturers to adopt even more cutting edge tools.
Take a look at these 10 technology solutions that you might consider adopting to add efficiency to your manufacturing business:
1) Application Development and Maintenance
Applications in the manufacturing industry have been used as a link between the customer and the business. The app is used to interact with the client, quickly complete business transactions and get valuable feedback from them. The feedback from the customers can then be used to produce better manufactured goods.
2) IT Strategy and Consulting
Manufacturing plants have to be founded on firm business values in order for it to be a success. Developing an IT strategy will help you to define your business goals with regards to your IT environment and your company's overall view of IT.
Today's businesses are all firmly rooted in the IT world. IT and data management should permeate every department within a manufacturing organization. IT helps the company create viable data and analysis systems and accurately study the data to come up with innovative working solutions. IT strategy and consulting will give businesses a competitive edge in many decision-making processes.
3) Cloud Migration, Computing and Software as a Service (SaaS)
Cloud storage is one of today's most innovative uses of technology and one of the most secure data storage systems. A cloud migration plan will help you to decide how, when and what to move to the cloud.
This technology is changing the business outlook for small- to medium-sized manufacturers. These businesses now have options for using cloud-based services for SaaS ERP, CRM, Distribution, Customer Service and Finance operations, instead of being confined to on-premise, server-based systems.
Cloud computing and SaaS solutions offer greater, but controlled, access to data and systems, while reducing costs. SaaS solutions reduce implementation time and planning and can lower costs for:
IT infrastructure
Customer Support
Data back-up
Disaster recovery
Security.
Cloud storage gives the small- to medium-sized manufacturer a chance to compete on a larger scale and secure and store large amounts of their data. Data can be quickly accessed from anywhere, increasing productivity and improving processes in a more timely manner.
4) Data Analysis
Data analysis has been advanced with the use of ever-changing technology. The speeds at which the data is analyzed and, therefore, used, has helped many companies to meet and exceed their goals. This is possible, in part, because quick and accurate data analysis helps the company forecast about the enterprise. Proper planning gives the company the opportunity to implement realistic goals and strategies. A company that plans ahead, stays ahead.
5) IT Managed Services
Developing a partnership with an IT Managed Services provider can help manufacturing companies to focus on the real work of their business, instead of spending time worrying about their systems and data. Proper management of IT can be crucial to the overall administration of the firm.
A managed services agreement will ensure you are getting expert ongoing monitoring and service, the best protection of your data and advice on the latest hardware and software upgrades.
6) Data Backup & Recovery
Information — data — is one of your company's most valuable assets. Technology has given companies the opportunity to safely and quickly recover their information in the event of data loss from any number of sources. In the past, a company would need to save their information manually, perhaps on different servers and in a variety of locations. Cloud storage gives the company a secure backup location that allows you to securely recover your information.
7) Modern VoIP Phone System
VoIP phone systems connect calls through an internet connection. VoIP makes communication more reliable and much cheaper, leading to opportunities for manufacturing companies to streamline operations and easily connect their expanding plants or locations.
8) Disaster Preparedness
Disaster is no longer looked at as an uncontrollable phenomena. Technology solutions, including data security and disaster recovery plans, have given businesses an opportunity to predict and recover from such calamities.
With daily operations relying on your data and systems, a plan to protect your IT assets literally protects your entire business. Getting back to work quickly after a data loss or disaster may save your company thousands in lost time.
9) Meet Compliance Standards
Every manufacturing industry has its compliance standards and regulations. With technology in play, it is now much easier to achieve this market standard, even in large organizations with many sites, and do it within the company budget.
10) Automate Operations with Reliable Connected Networks
With new technologies, automation has become much easier. You can create an environment ready to connect several systems — inventory, purchasing, accounts receivable, accounts payable, sales, marketing — to create an efficient system to help you ultimately manufacture products at a cheaper price.
Staying Current with IT Solutions
One sure way to keep a competitive edge in manufacturing is by applying new technologies to existing, successful products and services. Keeping up with technology solutions will affect every aspect of your business.
If you're considering implementation of some of the solutions outlined here, you can benefit by finding a trusted IT services provider who can offer advice. To get you started, our helpful e-book below offers more insight into cloud computing and what a move to the cloud can mean for your business.
Image credit: factory